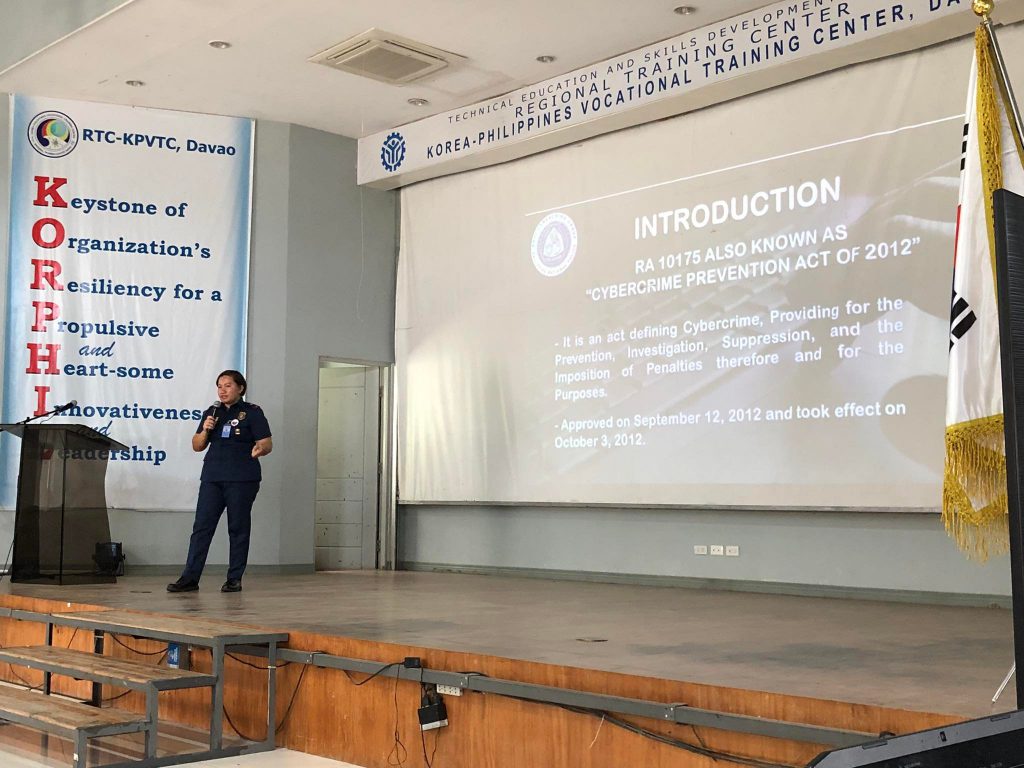 As part of its Gender and Development Program, the Regional Training Center – Korea-Philippines Vocational Training Center (RTC-KorPhil) Davao conducted a Cybercrime and Cyber Security Awareness Cum Safe Space Act (RA 11313) seminar on March 29, 2023 participated by more than 300 trainees and personnel of the Center. The seminar aimed to raise awareness and educate participants about the growing threat of cybercrime and the importance of safe spaces.

The resource persons in this event were coming from the Regional Anti Cybercrime Unit XI (RACU XI). The Chief of Operation PMAJ Lovely May A. Bitas, discussed the Cybercrime Prevention Act of 2012 and its provisions during the seminar while PCPT Janice S. Natial briefed the participants on the Safe Spaces Act (RA 11313) and its provisions. PCPT Natial emphasized the importance of Section 21 under Article V of RA 11313 which addresses Gender-Based Sexual Harassment in Educational and Training Institutions. The section states that all schools, whether public or private, shall designate an officer-in-charge to receive complaints regarding violations of this Act and ensure that victims are provided with a gender-sensitive environment that is both respectful to the victims' needs and conducive to truth-telling.
 
The seminar aimed to equip the participants with the necessary knowledge and skills to protect themselves against cybercrime and promote safe online spaces as well as the protection against the different types of discrimination and harassment.
 
The RTC-KorPhil Davao's Gender and Development Program office is determined to ensure that the trainees and personnel of RTC-KorPhil Davao are always well-informed and protected from any kind of discrimination and harassment; it might be in form of physical or virtual.