"Take care of your heart this Love Month!"
The Regional Training Center-Korea Philippines Vocational Training Center, Davao, in collaboration with the City Health Office Davao and District Health Office Bunawan, Davao City, commemorated the Philippine Heart Month this February 2023 with a Seminar on Cardiac Diseases and Related Illnesses yesterday afternoon, February 8, 2023, at RTV-KPVTC, Davao Mini-Theater.
Engr. Constantino B. Panes, Jr., Ed.D., Center Administrator of RTC-KorPhil, Davao, welcomed guests and employees to the event by emphasizing the importance of caring for employees' bodies and minds in order to achieve absolute health. Moreover, the event was made possible through the initiative of the Training Center's Nurse, Ms. Angelli C. Emborgo.
This seminar is designed to raise employee awareness of common cardiac diseases and related illnesses, as well as their common signs and symptoms, potential risk factors, and recommended treatments and preventions for these diseases, which are frequently lifestyle-related.
Dr. Michelle Maville Buscato-Schlosser. MD. MPM-HSD, Medical Officer IV, District Health Office Bunawan, Davao City mentioned in her lecture the significance of early detection because it will necessitate early treatment. She further stressed that these cardiovascular diseases (CVDs) can be avoided by detecting them early and that early signs and symptoms should not be ignored because, if left untreated, they will worsen into a more serious health concern in the future. As such, the keys to living a long and healthy life are a well-balanced diet and a healthy lifestyle.
In his closing message, Mr. Gil D. Gonzales, Supervising TESD Specialist, encouraged employees to adopt healthier lifestyles. He also pledged to support them on their journey toward a healthier RTC-KorPhil family as healthy government employees work with maximized efficiency and service.
Philippine Heart Month is celebrated annually in the country every February by virtue of Proclamation no. 1096 signed on January 9, 1973 in order to raise awareness on various heart diseases which have been alarming health concerns among Filipinos. With 17.5 million deaths each year, cardiovascular diseases account for the largest share of non-communicable disease fatalities globally.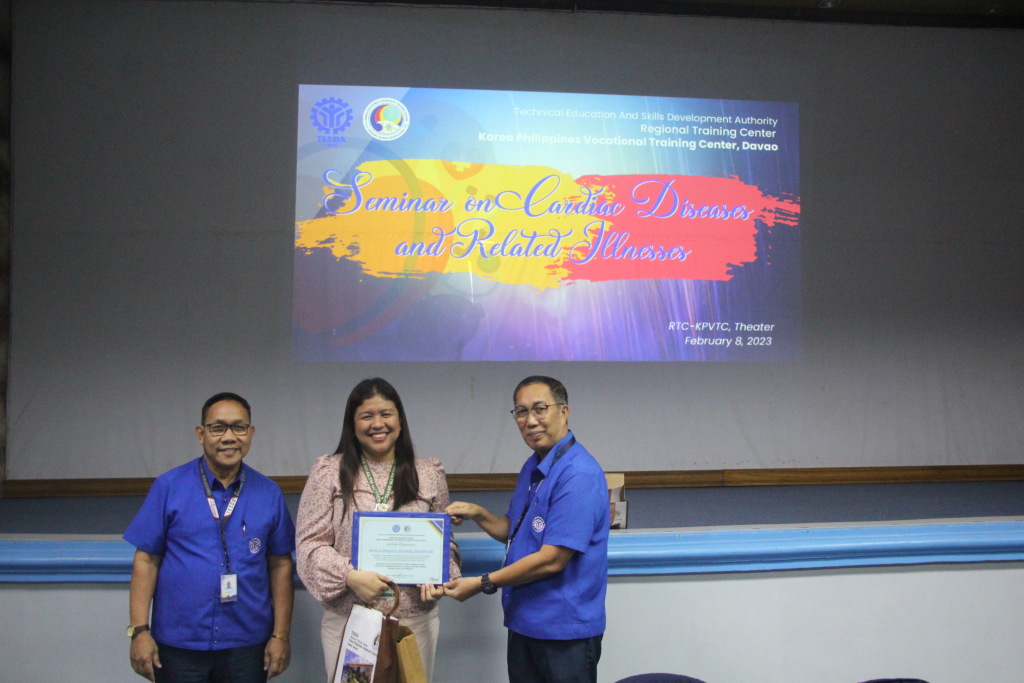 Photo Courtesy of Mr. Jay Mark B. Nuevo