The 2023 Research Forum for Diploma Trainees was held on May 3-4, 2023 at RTC-KorPhil, Davao, Multipurpose Hall. This two-day event was spearheaded by the Innovation, Research, and Green TVET Team of the Training Center and was aligned with the 2023 TESDA Advisory Council (TAC) Workplan.
Participants of the said forum were 3rd year, 1st semester and 2nd year, 2nd semester diploma of technology trainees. This event aims to elevate trainees' understanding of techniques on how to write Chapters 1-5 of technology research papers, with focus on research methodologies, literature review, data analysis, proper referencing, basics on Intellectual Property (IP), and patent search, among others.
Engr. Constantino B. Panes, Jr., Ed. D., Center Administrator of RTC-KorPhil Davao, emphasized in his opening remarks the importance of promoting research and development within the Technical Vocational Education and Training (TVET) sector.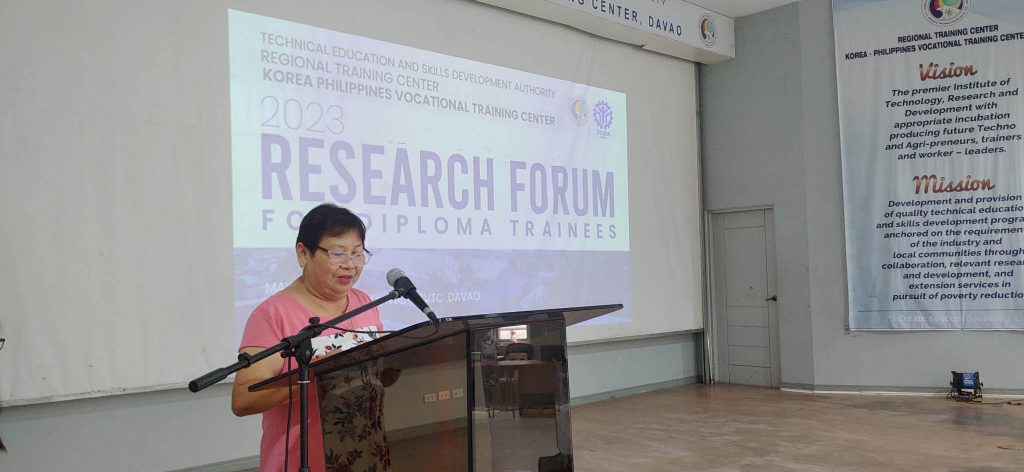 The event was also graced by honored guests and TAC members who showed their support for the Training Center's research endeavors, specifically, the Chairperson for the Mindanao TVET Association, Ms. Lourdes M. Mission, and the Department of Trade and Industry Region XI representative, Ms. Joshia Soliven, in lieu of the DTI XI Regional Director, Dir. Maria Belenda Q. Ambi, CESO III.
Ms. Mission in her speech commended the Training Center's research undertaking as this had been one of the pursuits that she wanted RTC-KorPhil to focus in order to fully promote innovation and development through technology research. 
This Research Forum is also concomitant with the Training Center's vision of fostering innovation, and creativity, and promoting a culture of research and development within the TVET sector. A pursuit that has always been embedded in RTC-KorPhil's vision of becoming a premier institute of technology, research, and development with appropriate incubation producing future Techno and Agri-preneurs, trainers, and worker-leaders.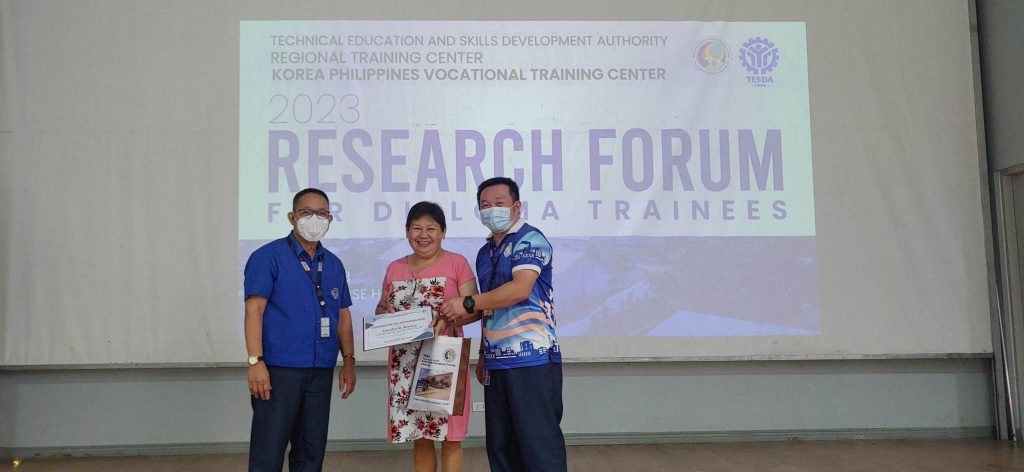 Awarding of Tokens of Appreciation to Ms. Lourdes M. Mission and the Department of Trade and Industry Region XI representative, Ms. Joshia Soliven, in lieu of the DTI XI Regional Director, Dir. Maria Belenda Q. Ambi, CESO III