"[clap clap clap .. stomp stomp stomp] TESDA!"
This was what the participants of the Training Program on 21st Century Skills shouted during their four-day training conducted by TESDA XI on November 14-17, 2023, at the University of Immaculate Concepcion (UIC) at Fr. Selga St., Davao City. Thirty-nine (39) participants coming from different TESDA-accredited institutions around Davao City were trained, which was the second batch of training catered by TESDA Davao City District Office.
The said office tapped trainers from the Regional Training Center – Korea-Philippines Vocational Training Center (RTC-KPVTC) Davao to be the facilitators of the event, namely: (1) Jestony Mark P. Aprong, (2) Jonathan V. Lopez, (3) Gladies Mae G. Bactong, (4) Engr. Lougino A. Miguel, (5) Engr. Ailyn R. Tejero, (6) Edison C. Tasic, (7) Ar. Janice S. Nadera, (8) Joie Vincent R. Dagohoy, (9) Angelli C. Emborgo, and (10) Nelson Z. Embat.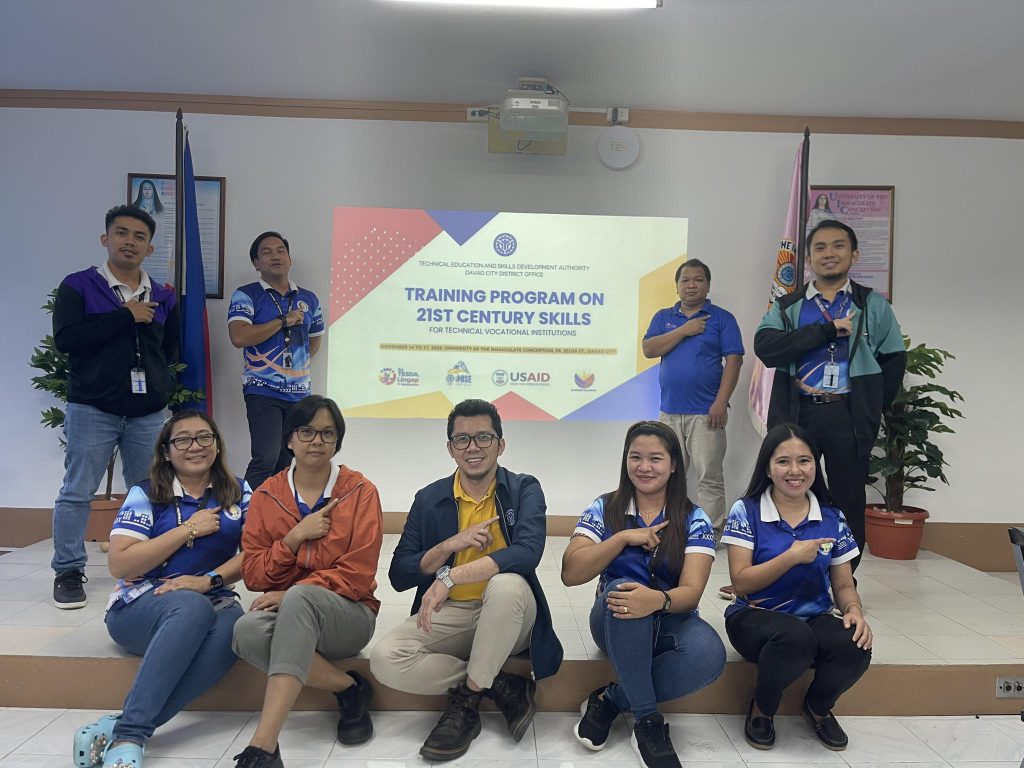 This 21st Century Skills is to be contextualized and integrated in the basic competencies of the training programs of TESDA under NC I and NC II. There are nine (9) modules discussed in this weeklong training: (1) Communication, (2) Collaboration and Teamwork, (3) Critical Thinking and Problem-solving, (4) Life-long Learning and Career Development, (5) Innovation, (6) Information Technology, (7) Occupational Health and Safety, (8) Environment Literacy, and (9) Entrepreneurship. TESDA Davao City District will collect the documents related to this integration, for the re-issuance of the Certificates of Program Registrations (CTPRs) of the institutions.